Julian Hughes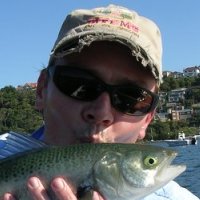 Fisheries Biology Unit
NSW Department of Primary Industries
Cronulla Fisheries Research Centre
PO Box 21 Cronulla NSW 2230
Sydney NSW 2052
AUSTRALIA

Phone: +612 9527 8469
Fax: +612 9527 8576

Email: Julian.Hughes at dpi.nsw.gov.au
General Information
I completed Honours at The University of Sydney in 1997 studying the physiology and locomotor abilities of migrating red land crabs (
Gecarcoidea natalis
) on Christmas Island. Since then I have worked as a research assistant at several universities (including UNSW (land crab physiology), Sydney University (Fish Ecology Lab), and James Cook University (Reef & Ocean Ecology Lab- Townsville), as well as with private consultancy groups (The Ecology Lab P/L- Sydney, and Biotactic Inc- Ontario, Canada). Consequently my research experience is rather broad and ranges from the ecology of reef fish species (temperate and tropical), to the use of otolith microchemistry as a tool to discriminate between fish populations, to the impacts of flow regulation on freshwater fish species. Since 2003 I have been employed by The NSW Department of Primary Industries (NSW DPI- formerly NSW Fisheries) working on projects mainly examining the basic fisheries biology of commercially important finfish species.
Current Projects
My current research is focused on a 3-year project examining various aspects of the biology and fishery for the eastern Australian salmon (Arripis trutta) in NSW. Eastern Australian salmon are important to commercial, recreational and indigenous fishers and their management has been the focus of considerable debate during the past 10 years. They are acknowledged as being a species that is currently under-utilized and anecdotal information suggests that the population size and its distribution has expanded considerably during the past few years.
The objectives of the project are to:
determine whether eastern Australian salmon comprise a single stock in the waters of SE Australia (using otolith microchemistry and tagging studies);
describe the catch composition of salmon taken by commercial and recreational fishers in NSW (including spatial patterns in sizes and ages);
describe the reproductive biology (including size/age at maturity and where and when spawning occurs);
model and compare growth (using otolith derived estimates of size-at-age);
analyse the diet (including potential impacts on prey species); and
develop yield per recruit and spawner-biomass per recruit models at present levels of fishing mortality.
The project is funded equally by the NSW Saltwater Recreational Fishing Trust (RFT) and the Fisheries Research and Development Corporation (FRDC). The project is being carried out through NSW DPI and I commenced a part-time PhD with FAMER in July 2007.
Selected Publications
Hughes, JM, Stewart, J, Kendall, BM and Gray, CA (In press). Growth and reproductive biology of tarwhine Rhabdosargus sarba (Sparidae) in eastern Australia. Marine and Freshwater Research.
Hughes, JM, Stewart, J, Gillanders, BM and Suthers, IM (Submitted) Evidence for fine-scale population structure in the eastern Australian salmon (Arripis trutta) stock provided by otolith chemistry. American Fisheries Society Special Publication - Advances in Fish Tagging and Marking Technology.
Stewart, J. and Hughes, J.M. 2007. Age validation and growth of three commercially important Hemiramphid species in south-eastern Australia. Journal of Fish Biology 70: 65-82.
Hughes, J.M. and Stewart, J. 2006. Reproductive biology of three commercially important Hemiramphid species in south-eastern Australia. Environmental Biology of Fishes 75: 237-256.
For a full list of publications, please see the FAMER publications page.