Current Research
Research in the FAMER lab is multi-disciplinary and ongoing. We are continually seeking to expand our current program, and actively-seek collaboration. If you are interested in joining our team, or have an exciting idea for new research, please contact one of our members. Here are a few projects currently being undertaken by the FAMER lab:
Zooplankton size spectra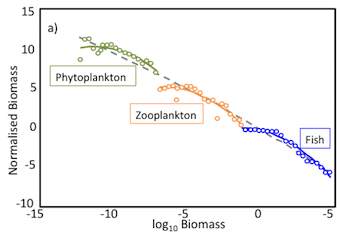 Marine Size Spectra
We hold an ARC-Discovery Grant (2015-2017) - The missing link in our oceans: how zooplankton size spectra couple phytoplankton with fisheries - with collaborators at the University of Queensland, CSIRO and the University of British Columbia, Canada. We are currently developing a global database of zooplankton size-spectra from LED and Laser Optical Plankton Counters. We are interested in using the zooplankton size spectra to investigate how zooplankton control the transfer of energy from phytoplankton to fish at local, regional and global scales. We are actively searching for collaborators, so if you wish to be involved, or have data to contribute, please look at our Size Spectra Website and then contact Jason. Contact: Jason Everett and Iain Suthers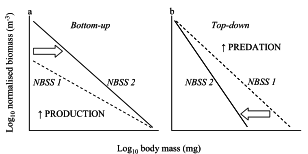 Estuarine Size Spectra
We are interested in how zooplankton size-spectra in estuaries (Rivers, Lakes and Lagoons) varies with catchement and estuarine characteristics, and whether these size-spectra can be used to provide an indicator of estuarine and catchment condition. We currently have over 1000 OPC profiles from 30 estuaries along the south east Australian coast. For further information see our Size Spectra Website . Contact: Jason Everett and Iain Suthers
Biological Oceanography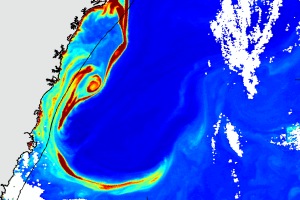 Tasman Sea Eddies and the East Australian Current
We are interested in the role that oceanographic features, such as boundary currents, eddies and upwelling events, have on the distribution and production of zooplankton and larval fish. We employ a variety of techniques including CTD profiles, mid-water trawls, plankton nets, in-situ and lab-based Optical Plankton Counters, and gliders. With our collaborators we are working in waters from Queensland right down to Antarctica. Contact: Jason Everett and Iain Suthers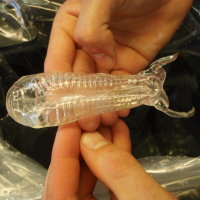 Salp Distribution and Population Ecology
Tunicates (salps and a closely related class larvaceans) are the second most abundant class of zooplankton (the first being copepods). Dense salp swarms have often been observed off Sydney (Heron and Benham, 1984) and shown to drastically reduce phytoplankton abundance (Humprey, 1963). On recent research cruises off southeast Australia in September 2006 and October 2008 salps were the dominant plankton collected in all nets. Read more about our Salp research.
Contact: Natasha Henschke and Jason Everett and Iain Suthers
Behaviour and Eco-physiology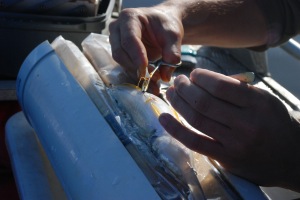 How does hydrology influence the behaviour of estuarine fish?
Funded by an Australian Research Council Linkage Grant, this project is determining how estuarine hydrology influences the movement, behaviour, and physiology of mulloway Argyrosomus japonicus, bream Acanthopagrus australis, dusky flathead Platycephalus fuscus, sand whiting Sillago ciliata, and the common stingaree Trygonoptera testacea. We combine field measurements via acoustic telemetry and accelerometer transmitters with a variety of laboratory studies (e.g. measurement of metabolic rates, heart rate and biomechanics) to understand how these fish respond to rainfall, tides, and fluctuations in salinity and temperature.

Rain reverses rhythms: In a recent paper published in Proceedings of the Royal Society B-Biological Sciences, Dr Nick Payne and colleagues showed that yellowfin bream switch from diurnal to nocturnal activity in the days following rainfall. Rhythm reversals like this are uncommon in nature, and this finding suggests that rain may present significant challenges to estuarine fish
Contact: Dr Nicholas Payne , Iain Suthers , Ruan Gannon and Teagan Marzullo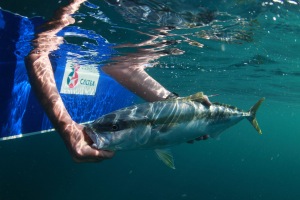 Movement and behaviour of Pelagic fish
A collaboration between UNSW and NSW Department of Primary Industries, this project is aimed at understanding how oceanographic habitats (e.g. heterogeneous temperature and dissolved oxygen levels) influence the movement, behaviour and physiology of kingfish Seriola lalandi and dolphinfish Coryphaena hippurus. Through a combination of acoustic telemetry, accelerometry and energetics approaches, we hope to achieve a mechanistic understanding of how physical oceanography influences the distribution of high-energy pelagic fish.
Fast swimmers: Preliminary tagging data suggests impressive sustained swimming speeds in these animals. For example, a 70 cm dolphinfish tagged at Coffs Harbour was detected off Sydney just 5 days later; a >400 km journey that must have been completed at an average speed of at least 1 m s-1.
Contact: Steph Brodie Dr Nicholas Payne , Iain Suthers and Jason Everett
Fisheries Enhancement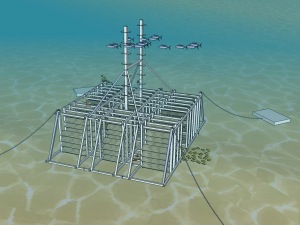 Offshore Artificial Reefs - fish attraction or production?
A 12x15x15 metre steel artificial reef was deployed in 2011 off Sydney's South Head. Collaborative research with the NSW Department of Primary Industries is ongoing to determine how the reef responds to the surrounding oceanography, and, in turn, how the fish community responds to the reef. This project will integrate oceanographic data from a range of scales and sources, fluid dynamics, fish tracking, baited underwater video, in situ fouling plate studies, and ecosystem modelling to ultimately determine how much new biomass is being provided by this artificial structure. This will provide the information required to develop and deploy more artificial reefs off the NSW coast in coming years.
Contact: Dr James Smith , Iain Suthers and Krystle Keller
Stocking of Eastern King Prawns
Our stocking research is aimed at predicting ecologically-responsible stocking densities, by matching release numbers with the amount of available habitat and food. Up to 1 million Eastern king prawns could be stocked in Lake Tyers (Victoria, Australia) in 2013. The success of this stocking, in terms of providing numerous and juicy prawns for the lake and the recreational fishery, is being closely monitored by Chris Setio. It is estimated that some of the 12 mm prawns stocked in February 2013 will be catchable (and edible) by December 2013, and could be huge 15 cm monsters by March 2014.

How many is too many? The approach to estimating the carrying capacity of prawns based on food availability is following a similar procedure to that used for the stocking of Australian bass, as reported by Smith et al. (2012) "Estimating the stocking potential of fish in impoundments by modelling supply and steady-state demand."
Contact: Chris Setio Dr James Smith and Iain Suthers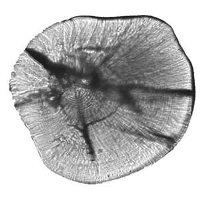 Otolith Manuals
Professor Iain Suthers has worked extensively in understanding the condition, or health, of larval fish in the ocean. Using larval condition, one can objectively determine the significance of oceanic fronts and upwelling, and the role of nutrients. The survival of young fish is immensely important in determining the community composition of adult fish, and the annual fluctuations in year class strength. Otoliths help us to determine age, growth rates and larval condition of fish. Please click here to see some of the otolith work undertaken by Professor Suthers and his colleagues.
Contact: Iain Suthers