Liz Heagney
BSc. Hon., BA.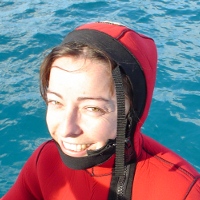 School of Biological Earth and Environmental Science
University of New South Wales
Sydney NSW 2052
AUSTRALIA

Phone: +612 9385 2073
Fax: +612 9385 1558

Email: e.heagney at student.unsw.edu.au
Liz Heagney studied Environmental Science at UNSW, graduating in 2001. Liz has also completed an Arts degree in Spanish and Latin American studies, focusing on politics, environmental sustainability, and social justice in the developing world. Since graduating Liz has worked for a number of government agencies, including NSW Fisheries, NSW National Parks and Wildlife Service and the Marine Parks Authority, researching both social and environmental issues.
PhD Research
Liz is currently undertaking a PhD looking at pelagic fish in coastal ecosystems, with a particular focus on management of marine protected areas. Pelagic fish like tunas, mackerels and scads are an important part of many coastal ecosystems - large pelagics are voracious predators that can exert top-down control over ecosystem processes, and small pelagic fish form a large part of the diet of many coastal species, including fish, marine mammals and seabirds. However, little is known about the ecology and behaviour of pelagic fish in coastal ecosystems. We have designed a novel mid-water baited underwater video system to estimate the distribution and abundance of pelagic fish, and have completed video surveys in Jervis Bay and Lord Howe Island Marine Parks. We are also using otolith chemistry to investigate home range and site fidelity of a small pelagic fish, the yellowtail scad (Trachurus novaezelandiae).
This project is a collaboration between UNSW, CSIRO Marine Research and the NSW Marine Parks Authority. Research is also funded by the Sea World Research and Rescue Foundation.